An invitation to Knowing your fathers' story
Jun 30, 2017 | Comments Off on An invitation to Knowing your fathers' story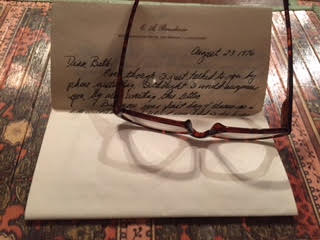 Finding Dad In His Letters
Even though I just talked to you by phone yesterday, I thought I would surprise you, by also writing this letter. By now, your first day of classes as a college student are behind you, and I do hope that the experience was as exciting as you expected.…Read More
---
Finding Your Stories In Articles For Father's Day
Dust off your scrapbooks and go through them or the boxes of "stuff" you don't want to throw away but don't exactly know what's in there.What you find is going to surprise and delight you. I found, for example, an article about my Granddad Moore in Jack Mabley's column in the Chicago Tribune, Monday, September 7, 1976, titled "Labor Day When Labor Was." …
Read More
---
Should New Fathers Capture Their Stories?
What's it like being a father? You've been one for a year and a half, and this is your second Father's day.
Chris:
About a year and a half, yes.
Just when you have it figured out everything changes, and you don't have it figured out anymore. It's about adapting and surviving. …Read More
---
Write Heart Memories – Seattle, WA.
(Visited 4 times, 1 visits today)
Popular Posts