Baby Showers
Jun 30, 2017 | Comments Off on Baby Showers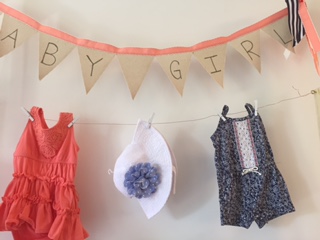 I've known for months that there was going to be this baby shower in Chicago. I didn't R.S.V.P. and kept putting it off because I wanted to get there. I didn't know how I was going to get there. So much going on between Grant and me driving back from the farm in Oklahoma before July, Ame's Birthday, Ame's Partner moving from Australia to Seattle and being supportive as I can for their transitions. And everything else that goes along with an active and full life.
But I did want to support Lia, my friend who is going to be a first-time Grandmother to her daughter and to Monica who is going to be a first-time Mother. And then twelves days before this event, my cousin's wife took a turn in the wrong direction and died. This story is long and sad, so we'll leave it for another time. Now, it's about making the impossible, possible. When Aunt Mary Jane told me Joyce had passed, I knew I had to go to The Memorial. That was that. I didn't remember what time the Baby Shower was. It was 11:00 to 2:00 in Lincoln Park, downtown Chicago. Could I go to The Shower and The Memorial? Well yes, I did. I showed up fifteen minutes before arrival time to find the party in full swing. I had ninety minutes to give my all to the shower, and I did. Meeting people, great talks with Lia and her kids. I congratulated Monica and gave her hugs and my excitement since I loved being a Mom, even though it was exhausting.
A bunch of us went up to the rooftop and took in the breathtaking view of the city, Lincoln Park, and Lake Michigan.
So much fun to celebrate the beginning of a new life.
One of my talks was with Martha. She's a Doctor and a Mother to a son who is sixteen months old. She was telling me what she did, and I was telling her what I did. She asked me if it was too late to get memories of her son in a book? She feels guilty because she hasn't had the time to write diligently in a journal or on a calendar. I said, "she can capture those memories anytime." I told her what I did for my Grandson when he turned one. I had everyone in the family write something unique they found about him and experienced with him in his first year of life. That's the book. But I told Martha it could be even easier. I said talk into a recorder and record your thoughts. I can do the rest. I encouraged her that she writes professional notes in this manner and she can do this for her son as well. She remarked how accessible this is and "What a fantastic service!"
Accessible. Yes, capturing your stories is accessible. That's what I want more than anything. To know whoever you are, no matter how busy your life is, it is easy to get your stories and put them in books.
What a fabulous baby shower. Moments like these can easily be accessed anytime and remembered when they are in a thin, easy-to- read, easy-to- find book which contains our Write Heart Memories® that inspire, motivate and affirm the truth of who we are.
Thank-you for reading this blog. Please share it with others who might benefit from it.
#bethlord
#yourthinbooksrock
#writeheartmemories
#yourpersonalhistorian
Listen Here
(Visited 7 times, 1 visits today)
Popular Posts