Beth's Lord's Books
Apr 26, 2016 | Comments Off on Beth's Lord's Books

Beth's Lord's Books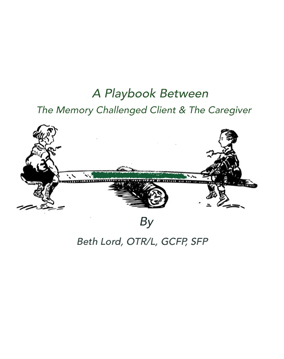 A Playbook
A Playbook Between The Memory Challenged Client & The Caregiver by Beth Lord
This is a user-friendly book that is helpful for both the client and the caregiver. It's an emotionally inspiring guide to caregiving, honoring the past and sparking up the flame in the memory challenged's hearts. This is a guide meant to help caretakers relate better to memory challenged patients, to help them relive their stories and enrich their day-to-day lives by shining a light to all those things they accomplished. Beth's experiences with Peter, a patient who inspired her to write this book, compelled her to create a compilation of what she has learned throughout her time with him, through the hard work and support required to help him develop, and through his successful adaptation to society and personal growth.
The Memory Challenged Client needs to know his story. If he has trouble knowing, or remembering, his story, then it is important to nourish him with it on a daily basis if you can. Knowing the feelings of the caregiver and those of the memory challenged client can help support and comfort those who have forgotten their past. Because once you know the feelings, and once you find the space to express those feelings in a positive and helpful way, they can move along and transform themselves and the emotions of those involved. So here then, is a playbook of possibilities for rejuvenation, health, and wholeness for the caregiver and client.
Beth presents many lessons, both physical and spiritual, for caretakers to complete with their clients. She guides both through a path of self-love and better living by being in the present and training the brain to improve mental and cognitive abilities. Through a playbook of practical activities, organization and scheduling tips, she makes this task even easier for caregivers and more enjoyable for all involved. Lessons on affirmations, breath, calendars & cues, comfort zone, compassion, focus, going out in the community, laughter, make yourself comfortable, pain, play, what is your story?, when I get mad I talk to my hand and so much more. It's a book to use in every day life for anyone who needs to strengthen their memory.
Purchase » (available in paperback or pdf eBook)
(Visited 1 times, 1 visits today)