Fifth Stop Along The Camino de Santiago de Compostela by Beth Lord
Jul 10, 2015 | 2 comments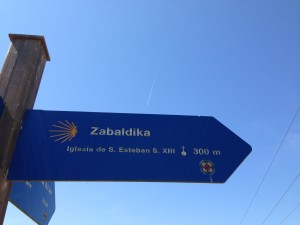 I rolled into Santiago de Compostela about ten in the morning. My flight to Madrid wasn't happening till eleven at night, so I had time on my hands. It was a beautiful, warm and sunny day in Santiago de Compostela. It was alive with tourists, pilgrims, music and festivities of the Galician people. I walked to The Cathedral of Santiago de Compostela where pilgrims have been coming since medieval times. I am comforted to know I am just another pilgrim like all the other pilgrims past, present and future. My heart and soul feel at home whenever I step into this Cathedral. This feeling is something so real inside of me that I cannot even explain this phenomenon to myself. Being here, opens my heart and I cry, releasing a multi-mixed explosion of impressionistic feelings into my write heart memory®.
After all of my expressed emotion where do I go but home. That "go to" home in Santiago is Costa Vella, which is a great place to stay. The Liñares family own Costa Vella and Anthony and Roberto manage the operations. Samantha (my youngest daughter) and I stayed here the very first time we were in Spain (in 2011). We stayed here because it is a favorite of Rick Steves, who is an American Tour Guide who has written several tour books, filmed many PBS travel specials and has a live radio show on travel. You can find most of this on his website: https://www.ricksteves.com. Costa Vella has won numerous awards and is also number one recommended in Trip Adviser as well. The bottom line is that everyone who works at Costa Vella makes you feel like family. It has a beautiful back garden, a glassed-in library on the second floor and 14 comfortable rooms. Rúa da Porta da Pena 17 ( www.costavella.com).
I made a beeline for Costa Vella's outside terrace because "Where else would I want To be on such an incredible day of sunshine?". I sat outside at a table closest to the fountain and ordered an agua con gas (sparkling water).  I was listening to a group of New Zealanders speak of their experiences on The Camino and the table right next to them filled with cyclists who had finished The Camino. Both tables started talking to each other and then I started talking to both tables. I showed them my tattoo of The Camino and one of the men showed me both of his arms filled with tattoos about The Camino. This cycle guide has taken cyclists across The Camino eleven times, and how funny it is that he is also from Seattle.
My stomach was hungry as it was beginning to be mid-afternoon, so I went to the older city center and ate where the Seattle cyclist guide suggested at the old Brothel/Casino of Santiago de Compostela. It had some nice dark wood; the architecture was good, and the food was okay, but it felt touristy to me. I went back to Costa Vella and went up to the second-floor library, had a glass of Vino Tinto and wrote. I took a taxi from the hotel to the airport for twenty-one euros early in the evening because I didn't want to walk to the bus stop, and I couldn't relax.
My flight was with Ryan Air. The TSA man saw my sticks as I was getting my liquids out from my backpack and told me I had to check my sticks. I bought sticks that could be broken down so I could carry my backpack on (whine, whine, whine). I didn't want to check my sticks. But I didn't want to get in trouble from the TSA man either, so I checked them.
Do you know how this story ends?
The minute I sat down after I checked my sticks and cleared security, an email came from Ryan Air that said the Baggage Handlers at Madrid's airport were going on strike. Ryan Air strongly suggested I bring only a carry-on. Great! I had given up that option just a few minutes prior.
I got into Madrid at midnight. The passengers having baggage went to baggage claim. We waited two hours with the one Ryan Air attendant rolling her eyes and not being helpful in the least with the long line forming of people trying to get information and support for their missing baggage. Finally, the word came out that passengers were to be back at six am to pick up their luggage.
But…. But…. The hotel I booked and paid for is miles away in the city center across from the train station. And my first train leaves tomorrow at six am. I cannot get back to this space to claim my poles, so I am forced to let go of $ 200.00 pair of walking poles from REI. These sticks were used, um, basically never except in my recent walk from Santiago to Muxia to Finisterre. I called Ryan Customer air service and sent emails to them for two days afterward, but they said it was impossible to send my poles back to Santiago de Compostela. Weird circumstances and events happen to pilgrims all the time that seem divinely sent and meant for the individual experiencing these situations. As for this case with me and my poles, I think I had a fear that something like this was going to happen, and so it did. Customer Service was not helpful at Ryan Air and I "let go" of them thinking they'd want to take responsibility for their company and how they treated their customers (silly me).
I got to my hotel about 2:30 and checked into my room. I pulled everything out of my backpack and realized, yet again, I had brought too much "stuff" as I laid it on the bed to see if there was anything I could leave behind. NO way was I going to lay down on the bed, fall asleep and risk missing the train. I washed some dirty clothes and dried them with the hairdryer, and it was time to go.
I walked to the train station, and as I walked, I felt scared, frightened and energized because I am listening and working with life instead of controlling it. I am making a conscious effort to do this, moment by moment in each present moment. It is a discipline I am learning as I do this. I make sure I go to the right train. I go to one of the coaches and sit down in a seat because I assume I can sit in any seat. I've counted ten times that I get off at the second stop. I see the stewardess, and she is helping the woman sitting in the seat in front of me. The stewardess is placing the woman's luggage on the top rack because the pretty young woman is walking with a cane and can't do it. I smile at this beautiful woman. She catches me smiling at her, and she smiles back at me. We smile together. Opera is playing on the train's speakers, and I think of my middle daughter who is a wonderful Opera Singer. A woman taps me on the shoulder because I am in her seat.  Not only am I in the wrong seat but the wrong coach so I correct the situation.
All goes well, and I get off at the correct stop. While I wait for the second train to Pamplona, I talk to a husband and wife from Melbourne, Australia, who walked The Portuguese Camino from Porto. They are training it back to Barcelona to see their grandson play soccer. And then they are going to see more children and grandchildren in Colorado. They have six children and their children living all over the world. And this is the fabric of family that stretches across the earth, it's called love.
Pamplona is Pamplona – Hemingway, Running of the bulls and lots of people. It is the first city in Spain that pilgrims come to after leaving Saint Jean Pied-de-Port that isn't a village. The first year I walked The Camino, I didn't stay the night in Zabaldika because that first Camino family wanted to stay in Pamplona. But last year was a different story. I stopped in Zabaldika at noon, and when the Albergue opened at 2:00, I had the bed of my choice. I showered and spent the afternoon outside in the yard with a neighborhood cat who stayed by my side the entire time. I received news that my niece had her first baby girl born that day and wrote outside in the beautiful autumn day. We had the pilgrims mass, a wonderful dinner with pilgrims sharing their stories and then the sisters offering us a special blessing in the church's loft.
Zabaldika is a special place. Many pilgrims don't realize this because it's an option off the main route. Sisters who are part of the Society of the Sacred Heart have a "donativo" Albergue, next to the 13th century Iglesia de San Esteban. Go up the winding stone staircase to the ancient belfry and ring the bell out into the valley and countryside below. It's a lovely sacred place along The Camino Way.
So this time, Tom was finishing up as a Hospitalero there. How excellent he was volunteering here but in truth, this was the only place he wanted to volunteer. Remember, Tom was part of my first Camino family. I met him on the very first day on the train going up to St. Jean from Bayonne around the same time I met Ele and Lisa. It is difficult to explain these kindred spirit connections, so I'm not going to try, but they happen with young and old, male and female and from many different countries. They are above reproach if you are that type of person, and I am and my Camino family is as well.
Today was Tom's last day as a Hospitolero, and I didn't want to miss it if I was going to be around. Partly because I wanted to see if I wanted to do something like this and partly because I wanted another chance to walk with Tom and partly because I love the sisters at Zabaldika. No taxi wanted to drive me to Zabaldika from Pamplona. Finally, an older taxi man was kind enough to do so and delivered me right in front of the church and the Albergue. Tom was waiting – a little thinner than what I remember but it didn't seem like twenty-one months had passed since we said "good-bye" in Burgos. Off he went taking my backpack with him and put it on a lower bunk bed in an only bunk bedroom while I paid the taxi man.
The Albergue wasn't open yet, but Tom wanted to make sure I had a comfortable bed. I noticed they had put in a second bathroom since last year. That was certainly a welcome relief since there had only been one for 28 pilgrims. There were two young women from the University of Michigan who joined our walking a mile to eat some pretty good pizza.
Getting back to the Albergue, we met the two Irish women who were going to be the next Hospitoleros for two weeks. Tom signed in 28 pilgrims + two more before putting the "completo" sign up and sending pilgrims down the path. Tom had to write their passport number in the log book, stamp their pilgrim passport and answer their questions before proceeding to the next pilgrim.
The sisters wanted to give Tom a farewell lunch, so one of the main sisters grabbed Tom by the hand to lead him into their house of residence and motioned for me to follow suit. For the next few hours, I was honored to eat paella, drink a local liquor and eat a specialty cheese dish that the different sisters had made for Tom. What a great celebration as the sisters told stories about Tom and their earlier lives around the world and the gleam in everyone's eyes as Tom unwrapped the presents the sisters had lovingly picked out for him. I wondered if every Hospitolero got this treatment, or Tom happened to be different.
All too quickly the party was over, hugs given, and dinner preparations now for the pilgrims. I had to get something from my bedroom and met Lucy, who was a seventy-something older woman from Ireland. There was no way I was going to have her struggle to the top bunk, so I did. As it turns out, Lucy is a great soul. Once, a nun herself she said she had lived and worked on the east and west coasts of America and in Chicago (which is where I'm originally from). She went into sisterhood way too young because she said that was the only option, for a woman who wasn't married. However, when she realized she wanted marriage, she left the sisterhood.
Tom had made the soup, but everyone helped in setting the table, getting drinks, cutting up vegetables, bread, and cheese. It was a lovely "last supper". After dinner, we went up to the church loft. There, the pilgrims and sisters said some lovely meditations, prayers, and songs. Then it was time to share our individual stories and bless this group of pilgrims who would be moving on in the morning.
(Visited 4 times, 1 visits today)