Hannah
Sep 19, 2017 | Comments Off on Hannah
Hannah Wins First At County and State Fair
Miraculous local stories are happening in our lives, and Hannah Mason's story is such a one because her painting took first in the county and Oklahoma State Fair. She is a freshman at Alva High School.
Congratulations on winning both!
Hannah is excited and surprised on winning this big, but it encourages her to keep painting the way she feels. Her inspiration is God, animals, and love from family. Dedication to art brought Hannah down this path and her encouragement from family and friends to enter this picture in the county fair because they loved her painting.
Hannah explains:
"The picture is a representation of God, and he is the lion. Jesus is in the background because he is helping us in knowing God, and guiding us in our daily life. This message is in my heart, and I had to paint it for other people.
Winning motivates me even further to continue painting.
The painting draws you in, and the beauty is undeniable so why art I ask?
"Ever since I could remember I'd pick up a crayon. I would doodle something and give it to my grandma. She didn't know what it was but I would tell her what it was and she would remember that. My Grandma, before she passed away, wanted her grandkids to be in art, so she gave me the pleasure of taking art lessons. She also saved money for her grandkids to have an instrument to play, so she bought me my flute too. Grandpa continued Grandma's thoughts and desires by giving me further art lessons in March of 2016. I started painting with acrylics and kept painting until I'm pretty good.
I painted this painting this summer at the Graceful Art Center with Jo Decker as my instructor who happens to be the best teacher ever and runs the center too. It took me about six weeks, roughly eight to twelve hours to paint this painting. I went every Saturday and spent a few hours each time.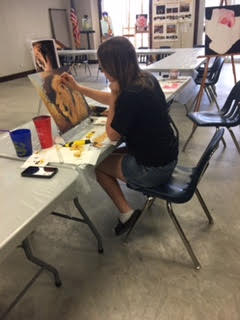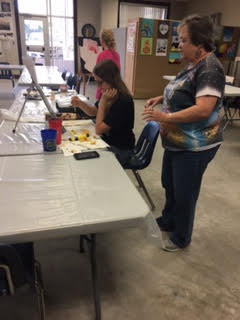 I first painted the background shading the different colors from the darker purple to the light baby blue. And then when this was dry I had to put on four to five different layers of yellow for the lion. I put the darker shades on his mane and then the lightest yellow color on there for him. With Jesus back there in the picture, I had to figure out if I wanted to paint him first or last. So I decided he would be in the middle part of the process because with the lion's hair coming out of the mane I had to show that Jesus was in front of the lion. So I did darker browns and black behind him to show that he was a human being and the crown of thorns on top of his head with the thorns coming out.
So the last part of painting the picture was getting the white on the lion's chin, and I had to get his eyes just right and the rest of the light touches in the hair. I'll continue learning about painting because it relieves stress and I feel better."
Hannah's painting can be seen at the Oklahoma State Fair Grounds in Oklahoma City until September 24. www.okstatefair.com/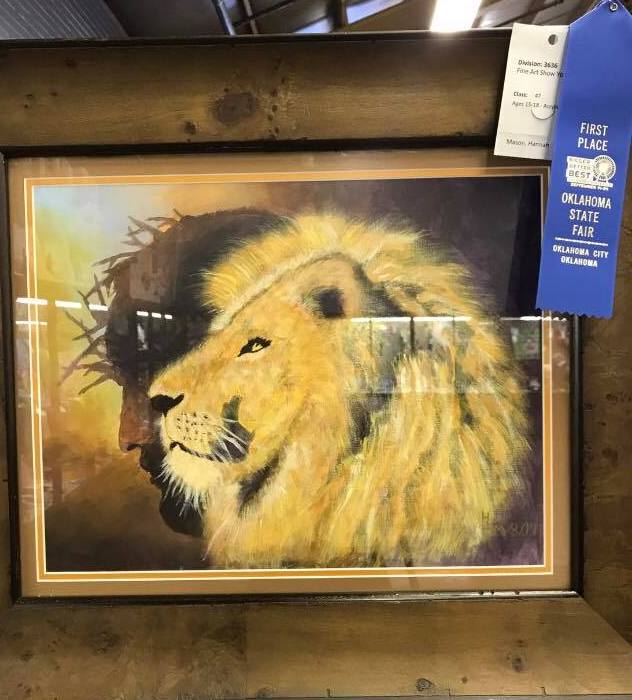 Ms. Decker's response to Hannah is gratifying. After retiring from a career as a nurse, she went back to her first love of painting to help run and teach the Graceful Arts Gallery and Studio in downtown Alva. It is a project of Freedom West Community Development Corporation with funding provided by the Oklahoma Arts Council.
The goal of this non-profit is to educate children in the arts, provide lessons for adults, help maintain, build and have a vibrant community. She's thrilled that the community has gotten behind them to promote the arts and cultural district downtown.
Jo is proud of Hannah winning at county and state and the undertaking it takes to get an image of something from your head and your heart on to a painting that wins both county and state fairs. More information: gracefulartscenter.org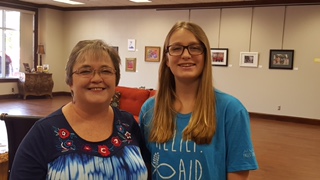 Beth Lord captures peoples' stories for Write Heart Memories   www.bethlord.com
Her husband, Grant Lord, has a working farm in Alva and they spend their time between being on the farm and living in Seattle.
(Visited 11 times, 1 visits today)
Popular Posts