Warning
: Missing argument 1 for mp_product_description(), called in /home3/bethlord/public_html/wp-content/themes/annie-piffaknee/mp_product.php on line 17 and defined in
/home3/bethlord/public_html/wp-content/plugins/marketpress/marketpress-includes/template-functions.php
on line
3892
Capture your story in a thin, easy-to-read book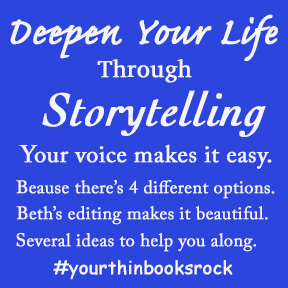 Step 1 –
You interview your Mom. I'll send you 100 questions with some pictures and She can answer the ones she wants. You send me back the filled-in document.
Or
Schedule an appointment with me either by phone, Skype, FaceTime of visiting in my Yurt if you live in the Seattle area
Step 2 –
We have our conversation with the method of your choice and I record our talk.
Step 3 –
In 3-4 weeks you'll receive a proof of your book via email and you can make corrections.
Step 4 –
You'll receive one 6″x9″ softbound book. You can order extra books from me at any time.
Q from a client
"It's already a crazy deal and probably not intended to be bought in bulk, but can I anyway?"
– Liza

Answer
"Yes, Liza, you can and this also applies to any other stories you'd like to capture in a book too.
Thanks for asking."
(Visited 3 times, 1 visits today)