The Fourth Stop Along The Camino de Santiago by Beth Lord
Jul 3, 2015 | 1 comment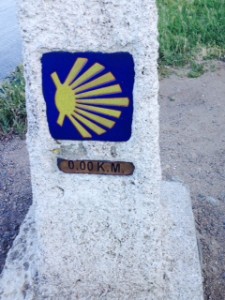 Pablo was soon out of sight. I was glad for the opportunity to be quiet and walking alone to Finisterre. It was going to take me at least another day to get there. I stopped at Vilaserio for some Aquarius and a Bocadillo. Aquarius is water, with nutrients in it and a Bocadillo is a sandwich ( usually consisting of ham, cheese, lettuce and tomato) made on a baguette. I don't exactly know how it happened but I sat at a table with two Australian women from Brisbane. I had seen Trisha last night with the German pilgrims and thought she was their tour guide. As it turned out, she wasn't a tour guide. She was from Australia and was with her friend, Lida. In getting to know these charming women I found out that they had walked The Camino last year with their group that raises money for their charity, Destiny Rescue (http://www.destinyrescue.org). The two of them decided they would come back this year to bike and walk parts of "The Way".
I easily fell into conversation with them, and when they asked if I wanted to go to Muxia with them and share a taxi, this seemed like the next step for me. We checked into our clean and neat Albergue that had a modern/beach/townhouse feel to it. We had a suite to ourselves with four bunk beds, a shower and toilet. We showered first and then washed our dirty clothes second.
Any pilgrim can tell you that there are three parts to The Camino Day: 1). Walking, biking or movement from point A to B. 2). The daily care of your survival needs that includes showering, washing clothes and getting money. And if you have time – wi-fi for email and facebook updates, changing to comfortable clothes and sandals, eating and drinking. 3). Skipping number 2 and getting sleep above everything else or taking care of medical needs.
I love this little fishing village made famous for The Virgin Mary Church and the ending of the movie with Martin Sheen, THE WAY. It is lovely to walk around Muxia.
Afterwards, we settled on an offbeat and quiet bar/cafe so we could talk. Talking is a necessity on The Camino. It's not chit chat. It's rather a self-imposed therapy session that happens during the walk or after the walk. It seems to be a natural benefit of The Way. Kindness and courtesy are very much a part of the talking and listening. You aren't worried about what you're going to say, you're focused and completely in the present for the person who is talking. Your turn to talk (if you want to), naturally happens in this process.
Morning came early as Lida and Trisha were out the door by six. I watched the sunrise and headed to the bus stop to go to Finisterre. At the bus stop, I met Kiersten, a pilgrim who was heading back home to Denmark in the next few days after walking The Camino from Saint Jean du Pont de Pied to Santiago de Compostela. We sat together on the bus and by the time we got to Cee, we knew we were going to stay long enough to have breakfast and walk the 14.5 km to Finisterre.
The walk from Cee to Finisterre was a lovely combination of walking in the mountains and coastal line which is a "must". We stopped for lunch at Hotel Playa de Estorde with its beautiful sandy bay. We were the only ones there and enjoyed a beautiful lunch by ourselves at this deserted paradise that would soon be anything but deserted.
Walking into Finisterre was lovely and we were glad that we didn't take the bus into Finisterre. We stopped at The Albergue behind the bus stop where pilgrims go to receive their beautiful Compostela because they walked from Santiago to Finisterre and then found a private Albergue to stay. We took showers and got ourselves ready to go out on the town where we ran into Lida and Trisha in the center square by the harbor. I sat down to have a glass of beer with them,exchange our e-mails and wish them "a Buen Camino!"
Kiersten and I went to a cafe and ate the local/traditional meal of Pimentos de Petrone. These are locally grown peppers from Galicia. What makes them so amazing is that they have a lovely flavor that is only occasionally hot and spicy. Sautee them in an iron skillet with olive oil, course sea salt, and pepper till the peppers almost pop and you have something that is a terrific taste. We also ate Pulpo Gallego which is fresh octopus sauteed in olive oil with sherry, garlic, pepper, lemon, and paprika.I could live off this lick smacking good stuff.
We burned off whatever accumulated fat we had gathered by walking up the 9.9 km round trip to Cabo Finisterre. I am at this high point (the end of the known world), for the third time within a year. I never get tired of connecting myself to this prehistoric/pagan past. Kiersten took a picture of me at the infamous 0.0 km sign post, and I did the same for her. We saw the rocks and the place where many pilgrims leave offerings and burn their clothes. Goats were scampering about at the bottom rocks by the Atlantic; someone was having a memorial for a dead loved one and leaving their ashes. We saw Trisha and Lida and said our last good-bye to them. And then we settled ourselves on the rocks to watch the sunset. After the sunset, our trail of pilgrims walked in quiet solitude back to their chosen resting points.
In the morning, Kiersten and I had breakfast, and she saw me off on the bus that would take me back to Santiago de Compostela. She would take this same bus tomorrow.
(Visited 3 times, 1 visits today)