The Second Stop Along The Way To Camino de Santiago be Beth Lord
Jun 5, 2015 | 2 comments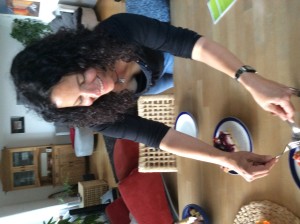 I flew into Luxembourg about 5:30. My friend lives in Germany equal distance between that airport and Frankfort-Hahn airport. These are smaller sized airports which I enjoy flying into. I hadn't seen Nancy in 22 years when she had been working at Mediplex in Edmonds, WA. as their Physical Therapist and I had been working there as the Occupational Therapist. I think we both only worked there for a 3 month contract but we had many long discussions that spring/summer because the client count was down. It was a live-in rehab center for people who were adjusting to life with a traumatic head injury. Nancy went back to Germany to have a family and eventually chose teaching as she had this option for work as well. Her oldest daughter, Greta & her friend came to stay with me in Seattle last June after Greta had finished a year of being an au pair on the east coast and her friend joined her for a west coast adventure.
Nancy picked me up at the airport and it was as if no time had elapsed. There was a yearly wine festival going on and Nancy asked if I wanted to go. I thought that was a great idea so we drove to the hilly mountainside, parked and walked our way to some glasses of wine and dinner. Nancy ran into neighbors and friends and it was lovely getting acquainted in this Germany of hills and valleys. We stayed until twilight and then we went to her home in her little village of one to two streets. Her home is a lovely, comfortable home that was built in the past 10-15 years with slanted roofs, efficient room layouts on two floors and the necessary accoutrements from Nancy's life to make it home to her and her kids. I felt comfortable.
Her porch overlooked a mountain hillside and was breathtaking. We took a red bottle of wine out to the porch, uncorked it and sat for hours sipping our wine and telling our secrets in this sacred candle-lit dark.
Monday, we spent the day in Trier which is the oldest city in Germany. Of course there are many remnants from The Roman Empire Days. Constantine's "home away from home" in holding court. It is now a church. Brass plated squares are in the sidewalks with a name of a Jewish citizen killed in "The Holocaust". And then further back in time when The Porta Nigra taunted enemies to enter. When they did, both gates shut and the military would kill with arrows from the top of the entrance after the gates closed.
Emotion, memory, time all blended into the here and now as we sat at a cafe on the Mosel River, letting all the pain and suffering be remembered and cleansed by the healing of the rushing water.
I met Nancy's neighbor who is an Osteopathic Dr. Who actually practices the "hands-on" method. It was also her birthday so we got some great birthday cake and then we closed the day with salmon, asparagus and friendship.
I slept late while Nancy went to work. Greta got up about the same time I did so we could visit. Nancy came home from work and made a lovely pasta meal for my send off and drove me to The Frankfort-Hahn airport to leave Germany and go to Santiago de Compostela, ES.
(Visited 3 times, 1 visits today)