Third Stop Along The Camino de Santiago by Beth Lord
Jun 9, 2015 | Comments Off on Third Stop Along The Camino de Santiago by Beth Lord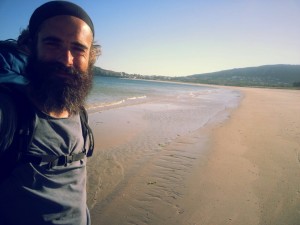 I flew into Santiago de Compostela the night I left Germany and sat next to a woman who had walked The Camino once before who was coming to Santiago de Compostela again to walk to Finesterre and Muxia. These are the Pagan routes that begin where Santiago de Compostela leaves off ending at the "end of the world" or the Atlantic Ocean.
I checked into my hotel and Julie checked into her Boots & Roots Albergue and we had a late night dinner together. Already connected to "the Pilgrim consciousness"and the natural bonding that takes place on "The Way", we shared the strange stories in our lives that created the inroads of our pain, sadness and commitment to walking "This Way".
In the morning there were already Pilgrims waiting in line for their Compostela at 8:00 in the morning so I lined up with them to pay my 1.50 euros for a new pilgrim's passport. This made me feel connected to all of these pilgrims who had walked for many days to get such a thing.
I walked all day to get to Negreira and walked the last 5 km with Pablo – a charming, tall delightful 37 year old man with French/Spanish roots from Barcelona. He was passionate about walking to Finesterre because he felt Fisterre (Spanish Pronounciation) had more connection in his consciousness than Santiago de Compostela. We shared stories as we walked. Honest stories that bubbled up from our souls. One thing I know is that these stories are personal and the listening to these stories is just as personal. The stories are remembered in my heart even though the details may be lost in the wind.
We ended up at a Municipal Albergue and had gym mats for our bedding on the first floor because the top floor was completely filled with other pilgrims. But this was absolutely perfect considering the private Albergue was completo.
We ate at the private Albergue, slept and woke up early to leave by 7:00 in the morning. I knew Pablo wanted to walk fast but he said he needed to warm up to his movement and then would speed up after we had stopped for our morning coffee. He talked about the gratitude of his Camino where kind people took him into their Albergue and helped him back into health for two weeks while he was recovering from tendonitis. They nursed him back to health and he worked on the land to help them. His girlfriend even came for a week to help. He walked again and had a relapse and was taken in by another Camino Albergue who helped him back to health as well. This is what happens on The Camino.
We warmed ourselves in the sun and drank our coffee at Casa Pepe in Mazaricos. We hugged one another and wished each other "Buen Camino". I did get pictures of his arrival to Finesterre. I will send him my e-book and keep our consciousness connecting.
(Visited 1 times, 1 visits today)