First Stop Along The Way To Santiago de Compostela – Milan,Italy
Jun 4, 2015 | Comments Off on First Stop Along The Way To Santiago de Compostela – Milan,Italy
Because that's where Sergio and Fernando live. I met them four years ago when Samantha (my youngest daughter) and I went to Spain for a mother-daughter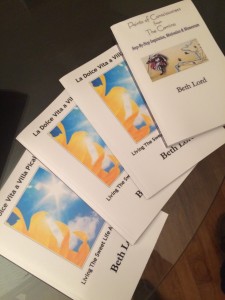 adventure trip. I had gotten "fired" from Corporate America because I was at the top of the sales ladder. When a new company buys you, this is what happens.
I WAS just beginning this four year transition into myself after spending many years being a mother, wife, sister, friend, therapist and a  pharmaceutical rep. These roles I knew well but who was Beth?
We met Sergio and Fernando in Spain and they were beacons of light and love for me. They were beginning their resort in southern Italy and I was beginning my book on Corporate America. We became friends and have stayed friends. Going to see them in Milan was my first step in thanking life for helping me become myself. I had finished their book about their resort, Picola, but it hadn't come in time. I felt bad I couldn't bring my offering to them but we had a good time anyway. Fernando picked me up at he airport. We had a light pasta meal and then went out to meet their friends.
Friday morning I was getting ready to leave to take my all day tour of Milan. Sergio was in the kitchen and I went out to ask him a question. When I came back to my room the lamp and the curtains were climbing with fire. I yelled for Sergio and he yelled for Fernando. Fernando got the fire extinguisher and within seconds the fire was out. The smell lingered even with the windows open but we were grateful that the damage wasn't too great. I went on my tour and they went to work. That night we met friends for Japanese food. Saturday we drove into the mountains and went to Stresa and Bella Island. Sunday we had breakfast at a cafe and they took me back to the airport so I could go to Germany.
I ordered their book from Amazon and it came this past week to their home. I'll send the rest of their books once I get home. In the meantime, I walk in gratitude for all that has been given to me!
Buen Camino.
(Visited 1 times, 1 visits today)