Press Release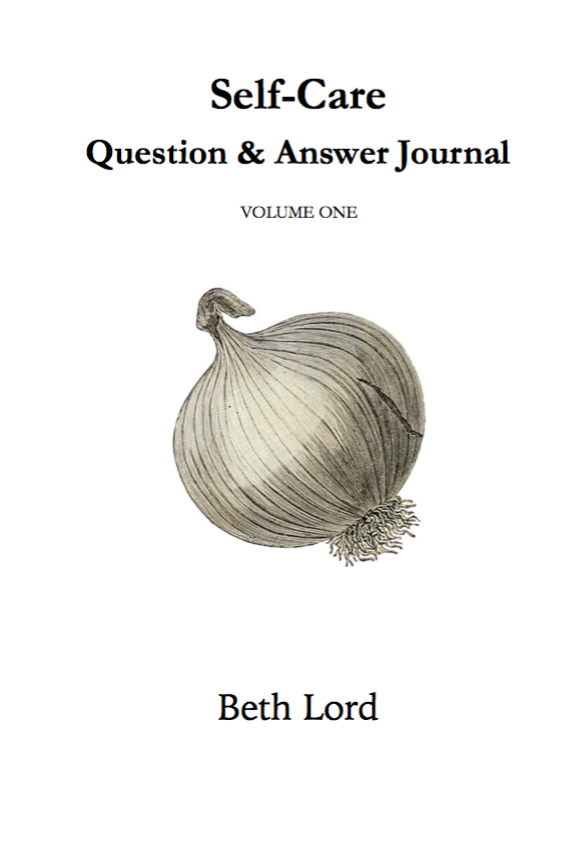 March 11, 2017
Beth Lord announces her new book The Self Care Q&A Journal
www.bethlord.com
Summary: Self care means different things to different people and one size does not fit all. In this book Beth Lord helps you define self care based on your needs and what is more valuable to you.

Body: Seattle, WA: March 10, 2017. Beth Lord, the leading Occupational Therapist & Feldenkrais Practitioner announced the publication of her new book 'Self Care – Q&A Journal' geared towards people who understand that they are unique and what they value may not be the same as their neighbor. She invites you to join her on this journey of self discovery.

Speaking from her home in Seattle, WA, USA, Beth Lord, author of the book says "We must accept the facts that we are not robots. God made us all unique and we must acknowledge that. What worked for someone else may not work for you as you are not that person. You must take care of yourself but first discover your inner self by peeling off one layer at a time. Find out what causes stress in your life and then learn to handle it"

Beth Lord further adds, "The purpose of this book is to guide the reader into greater self-awareness through simple chapters on stress and the areas of stress that affects your daily life and your productivity. Your daily storylines, too many plates spinning, you're tight and forget to breathe and you don't know when to say, "no. Maybe you have some habits that you are unaware off but is causing stress in your life or in the lives of those around you. "

She adds, "Once you identify the issues or habits that cause stress in your life, you'll need this book to guide you on the path to change and improvement. It takes 66 days to change a habit. Seven easy chapters with lessons will help you peel the layers and get to the core of self-care; making you a better person for yourself, your family, your business, and community.". "You'll love it!" she adds.

You can order the book at BethLord.com and can sign up for her newsletter also while on her website.

Beth is an Occupational Therapist, Feldenkrais Practitioner, Founder, and CEO of Beth Lord's Write Heart Memories® which is a therapeutic writing service and publishing company for you to turn your stories into books.

Beth Lord's Write Heart Memories®
---
December 14, 2016
Keep your family memories alive: website relaunch allows you to easily turn your story into a book.
www.bethlord.com
Give the gift that never ages this holiday season.

Seattle, WA – As our loved ones age, we often wish we had taken the time to record their thoughts. If we've been careful enough to do that, we often don't have time to turn their life stories into an easily accessible tool that can be passed onto future generations. Write Heart Memories®, a product provided by writer and company founder Beth Lord, solves this problem by concisely and compellingly turning your loved ones stories into precious mementos that will be passed on for generations. Samples can be viewed at the newly relaunched and reconfigured website: http://bethlord.com.

"Beth is so much more than a writer. My parents have been married for 49 years and I wanted to give them a special gift to commemorate their anniversary. The result is an extraordinary mix of history, photos and narrative. It's simple in concept but quite complex in practice," said Kim Diller, satisfied customer.

"To tell you the truth Beth, I'm dealing with Rick's headstone right now and can't bare to look at his story proof right now, but I'm glad we spent the time with you and gathered his stories before he passed on," said Katie, sad but satisfied customer.

Beth Lord knows that everyone has a story to tell and her products showcase those stories, no matter what they are. "Humans strive for connection," she says. "I help provide the opportunity for those connections to occur and for future generations to understand dreams that were shattered, realized or put on the shelf in your family's own words."

Books can chronicle family memories, track the growth of a child, celebrate the birth of a baby or pregnancy story, the opportunities are endless.

Customers are encouraged to visit the website, and learn more about the different packages available ranging from simple do-it-yourself options to customized one on one sessions with Beth.

To find out more about Beth Lord and the stories she tells, visit BethLord.com, sign-up for her newsletter, blog, and follow her on social media ~ @BethBLord (Twitter Handle), WriteHeartMemories (Instagram Handle. www.linkedin.com/nhome/?trk= (LinkedIn Handle) and https://www.facebook.com/TurnYourStoriesIntoBooks/ (Facebook Handle)

About Beth Lord
Beth Lord owns Beth Lord's Write Heart Memories® where she turns your stories into books. She's been an Occupational Therapist and Feldenkrais Practitioner and has been a health professional for many years. Her passion in life is to help capture stories to ensure your living legacy.

To find out more about Beth Lord and her work, visit her web page http://www.bethlord.com. A Holiday Special is going on until December 31.

Contact
For media or customer inquiries, call (206) 498-2532
For further information, visit http://www.bethlord.com .
Follow Beth other blogs, Twitter, Instagram, LinkedIn, Facebook and her monthly newsletter.
---
November 23, 2016
Make A Book This Thanksgiving And Remember Your Stories by Beth Lord
www.bethlord.com


Thanksgiving is a great time to get stories from the people you love because their stories matter and you don't know if they'll be around for next Thanksgiving.
It is these stories turned into books we'll treasure forever.

It is very easy to do This Thanksgiving as you're sitting around the table

Press "Record" on your smart phone.
Put it in the middle of the table or a place that people can forget it's on.
(comfort creates the best story).
Ask the question, sit back and listen.
Give time to everyone telling their story because you don't know what's going to unfold.

Three Questions That Create A Great Story
1. Ask your family and friends what they are thankful for.
2. Ask them the Thanksgiving they most remember.
3. Ask them the one story they'd like to be remembered for.

Zone in on people you'd like more stories from.
Ask questions to get people sharing but truly if you listen,
they know you're listening and will tell you amazing "stuff".

Thirty Minutes Of Recorded Stories
Gets You a Softbound Fifty-Page Book For $ 50.00
https://www.bethlord.com/store/products/your-book-kit/

---
October 10, 2016
Townsquared
www.bethlord.com
Here's a short article about me on Townsquared
---
March 18, 2016
A Playbook between The Memory Challenged Client & The Caregiver' to be released soon.
www.bethlord.com
Beth Lord's new book is an emotionally inspiring guide to caregiving, honoring the past and sparking up the flame in the memory challenged's hearts.

Seattle, WA –Beth Lord's newest book "A Playbook Between The Memory Challenged Client & The Caregiver" is a guide meant to help caretakers relate better to memory challenged patients, to help them relive their stories and enrich their day-to-day lives by shining a light to all those things they accomplished. Her experiences with Peter, a patient who inspired her to write this book, compelled her to create a compilation of what she has learned throughout her time with him, through the hard work and support required to help him develop, and through his successful adaptation to society and personal growth.
"A Playbook Between The Memory Challenged Client & The Caregiver" is available in softbound and ebook versions on March 15, 2016.
About the book
The Memory Challenged Client needs to know his story. If he has trouble knowing, or remembering, his story, then it is important to nourish him with it on a daily basis if you can. Knowing the feelings of the caregiver and those of the memory challenged client can help support and comfort those who have forgotten their past. Because once you know the feelings, and once you find the space to express those feelings in a positive and helpful way, they can move along and transform themselves and the emotions of those involved. So here then, is a playbook of possibilities for rejuvenation, health, and wholeness for the caregiver and client.

The author presents many lessons, both physical and spiritual, for caretakers to complete with their clients. She guides both through a path of self-love and better living by being in the present and training the brain to improve mental and cognitive abilities. Through a playbook of practical activities, organization and scheduling tips, she makes this task even easier for caregivers and more enjoyable for all involved.
About Beth Lord
Beth Lord is a writer and a therapist who combines her passion and knowledge to fulfill her calling to help those in need to share a story with the world. She owns Beth Lord's Write Heart Memories®, where she turns your stories into books. She's been an Occupational Therapist and Feldenkrais Practitioner and has had the opportunity to work with a variety of clients and their conditions for many years. She continues to see

Peter and dedicates this book to him as well as clients, caregivers and families in similar situations.

To find out more about Beth Lord and her work, visit her web page http://www.bethlord.com/
Contact
For PR purposes, you can contact Beth at:
Beth Lord
3019 NE 127th Street, Suite 27482
Seattle, WA 98125, USA
Tel: 206-498-2532
---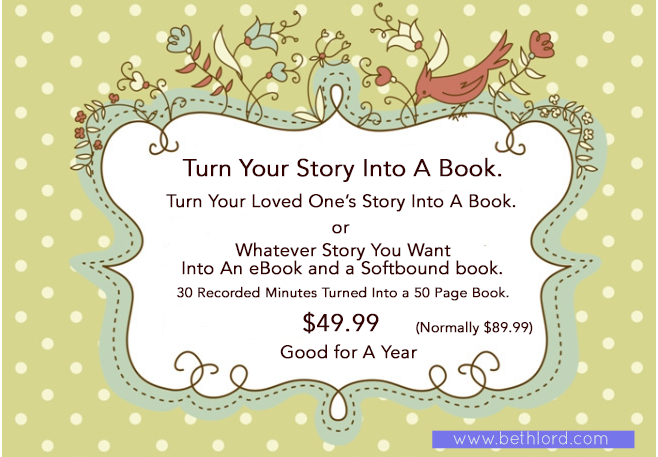 March 18, 2016
Unique Holiday Gifts That Encourage A Connection Within Families And A Lasting Legacy
www.bethlord.com
We are pleased to announce an incredible step-by-step, affordable process to capture your loved one's story before it's too late. We are Write Heart Memories® and we've been undergoing several changes and updates to our website to help people tell their story because it matters. So right now, our Gift Certificate is available to purchase for $49.99. When you purchase this gift certificate, you'll also receive a free pdf of Beth's Book: Five Easy Steps for Turning Your Stories Into Books. This gift certificate includes 30 minutes of your recorded story, a cover photo, a back cover photo, ten photos for the inside of the book and a brief 2 paragraph bio of the person (s) who is telling the story. Once we receive this information from you, we turn it into an eBook and a softbound book. The Gift Certificate is good for a year.
It's an incredible deal because we know that your story matters as well as your
loved ones too.
---